1
« on: January 19, 2023, 04:09:18 PM »
Rather than add this response to another thread on a somewhat related but different focus I thought I would respond to a question asked there in this new thread out of respect for the OP in the other
Original thread -
https://www.saacforum.com/index.php?topic=21640.30
Now the question
Jeff, I should have asked a question of you when I posted. I posted pics of my friends original boss9. That "purple" color can be seen pretty much front to back underneath in my pics. My question is would that "purple" also transcend up to the rear cross panel since it is on the vertical trunk drop offs? If so would a car that had a black underside(batch) possibly also have that black up to some degree behind the rear valance? ............................

Will try and keep this short since the thread focus is a bit different. Remember that the jets applying were attached below the moving unibody so as far as we know they did not tilt or move during the application. This would have limited access or at least reduced it in some areas, pockets and cavities. Also, would depend on how the triggers for this application were adjust that day. Were they adjusted to stop before the rear cross member or later. Possibly creating issues with application of the color onto the following body. Application and the process was not perfect so we find examples with little, light or no paint in the rear pockets while in other cases better coverage And of course if the spray was directed at an angle or straight upward that would affect what we're seeing today also. So yes, in some cases I've documented some cars with some spray, from below on the bottom edge (horizontal) of the rear cross member while others light if it was there originally. But it would likely only have a little if any overspray form this application on the vertical rear facing surface of that cross member of the floor color. This is possibly the reason they galvanized this piece also since a fair amount might be exposed with no coating.
As far as "behind the rear valance" that was not on the car when the floor color was being applied the above description should address that for this discussion
Here are two extremes First one where the jets were adjusted to stop well before the spray reached the rear of the floor and cross member. Bare metal for maybe the last 10 inches or more. Floor and rear frame rails were treated differently so that is the reason one likely developed surface rust while the other remained fairly fresh looking surface though the surface details have altered since new
This car had the typical dark grey/blueish floor color application. Exterior color a blue.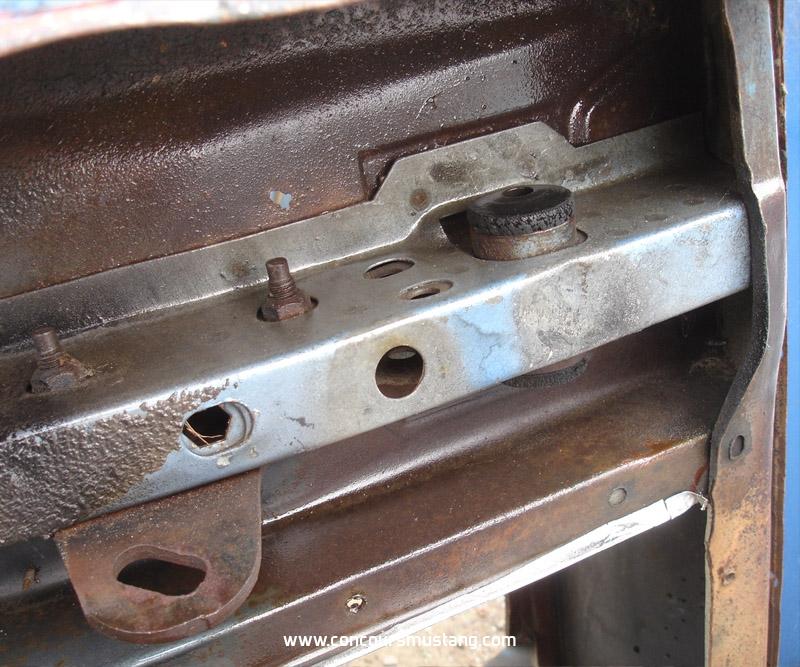 And a second where the jets appear to spray at a slight reward angle so they reached into the rear cross member pockets so they almost reached the interior/frotn surface of the rear cross member. Notice the arrows and bare metal surfaces. This angle would insure that no paint from this application would get on the vertical surface of the rear of the cross member. This example used the red oxide colored epoxy primer sealer floor color. Exterior color was a green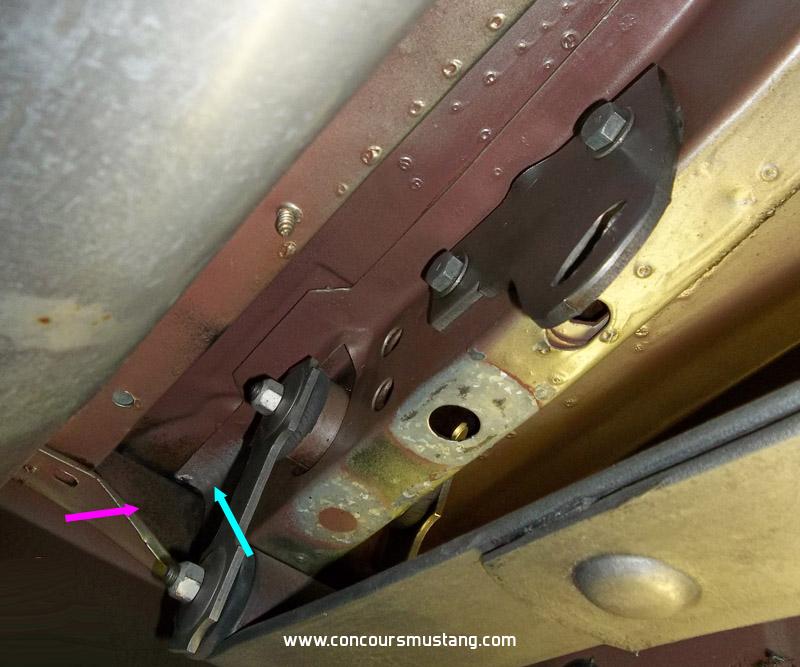 The two pictures above are from different years and plants but used to illustrate the range of possibilities and the day to day practices. Allot of unrestored cars don't look this clean nor are the details as clear as these two and for that reason they were chosen for this purpose. Top picture is of a 69 while the lower is a 68 if your wondering